The artist: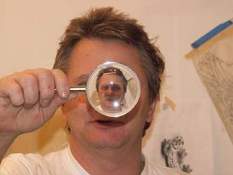 Mats Carlsson born 1955 - Norrköping Sweden.
I started as a house painter in the late 1970:s. I was trained in decorative painting by master painter Stellan Palm between 1991 to 1999. I did the program of decorative painting at institute Yannick Guegan in Francee 1996 and recived the first diploma to a Scandinavian decorative painter. After my studies in France I started a 1 year education for decorative painting in Norrköping Sweden ( In 2000 me and a colllegue started the company Palm Fine Arts and transformed the education to a 2-year decorative painting education .) The decorative painting made me curious in still life and trompe l'oeil painting.
From early 2000 I started painting more fine art. As I also for many years have a strong interest in Single malt whisky it become natural to paint motif from that field. Whisky has a very interesting transparancy and beatiful amber colour.
My paintings have been published in different magasins as well as national TV in Sweden. About 10 years back I started to participate in whisky festivals with art works and painting "live". This increased the interest in that kind of my art work, that is the reason for this web site.
Here you can see some of the art works as well as order art prints or originals, of course you can order a painting after your own choise.
During the years I have been represented in
different exhibition in Europe and USA:
1996 - France - Quimiac
1997 - Netherland - Utrecht
1998 - USA - Washington
1999 - Sweden - Norrköping
2000 - England - London
2001 - France - Paris
2002 - USA - San Antonio
2003 - Belgium - Brygge
2004 - Norway - Oslo
2006 - Netherland - Haag
2007 - Denmark - Århus
2008 - USA - Chicago
2009 - Italy - Bergamo
2010 - France - Versailles
2011 - USA - Atlanta
2012 - Germany - Hamburg
2013 - Tokyo - Japan
2015 Lecce-Italy
2019-Chamomix-France